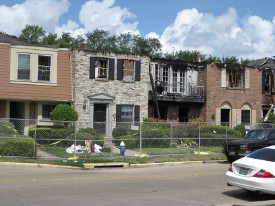 Houston had another serious Galleria-area fire last weekend near San Felipe and Voss. Thankfully, no one was injured or killed in the 2 alarm fire that destroyed a block of townhomes and took 60 firefighters to put out. Although the townhomes were old construction, a serious fire can happen in newly built homes, townhomes and apartments.
One of the best ways that you can protect your home and family is to have fire detecting equipment integrated into your home alarm system. Whether a fire starts from the kitchen stove, a fireplace, or arson, smoke detectors and heat detectors will alert you to a fire and give you and your family time to evacuate.
You receive additional fire protection if you have a monitored alarm system. Monitored systems are an easy, affordable way to protect your family and home 24/7 for just pennies each day.
Safeguard Home Security is one of Houston's top providers for monitored alarms. When your fire detecting equipment is integrated with your security system, information sent to the monitoring station is immediately assessed and HFD is alerted immediately to the situation.
Your home is monitored whether or not your security system is armed. Safeguard also provides you with 24 hour panic buttons in event you are at home when an emergency situation arises. Immediate response times help minimize the loss of life and property in event of a fire.
Isn't integrating your fire detecting equipment with a monitored alarm system worth the peace of mind you get from knowing that your family has around the clock protection, 7 days per week, 365 days per year?