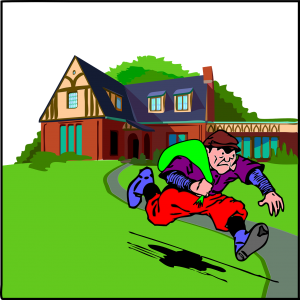 We are aware that many people are gravitating to Houston each year. Whether it be for work, or to start life all over again, this city is rapidly growing. As exciting as the new venture of moving to a new city can be, whether it be making new friends in your new neighborhood or getting assimilated to a new environment, being a target for burglary isn't what you planned…but who ever does?
With an increasing amount in people moving here, more and more crime arises with burglary being one of the biggest things. As a law abiding homeowner, it is very frustrating to hear about a burglary that may have taken place in your neighborhood as it leaves you on edge because you are not sure if it can also happen to you the next day.
Here are a few helpful Houston burglary prevention tips with Safeguard Home Security to help you beat burglars at their own game, so they won't even think of targeting you next.
Be Aware of Who is Looking Around
People may come in and out of your home that you don't really know, such as the deliveryman, a salesperson, or even a friendly neighbor you invited once for coffee. There is no harm in this, however, refrain from giving them personal information such as your vacation plans, weekend plans, or your work schedule. This is not to say that these people will be or are burglars, but it is possible one of them may use the information you give them about your home and availability against you.
Mark Your Valuable Items
Time and time again, when a burglar violates your premises and takes your most valuable possessions, these items, such as your television, computer, jewelry box, are stolen to be sold. Invest in an electric engraving pen and engrave your information on those items and other items you deem as most important. Engraving your name and phone number or name and driver's license number makes it much harder for the thief to sell your items as most people would not want to purchase something that has engraved letters or numbers on it.
Invest in a Complete Alarm System
Burglars are not unintelligent. They know when a house has a "false sense of security." An alarm is great, but a complete alarm system is even better. Also, be sure to let it be known and not hide the fact that you have an alarm system. A great idea would be to have an alarm decal on your window or alarm signs on your lawn.
Here at Safeguard Home Security, our goal is to provide our customers with the fastest, most reliable response times during a burglary making your investment a smart one. With these Houston burglary prevention tips with Safeguard Home Security, you will be many steps ahead.
If you have any questions about which alarm system will be best suited for your Houston home security, call us today for assistance at (832) 469-4054!